Photo: Nora Gibson
Digital Motion
Philly A|V collective brings performance and experimental media together.
Leslie Bush
November 15, 2019
Photo: Carlos Avendano
Voguing Your Way to Yourself
Come as You Are: Sublime Movement Workshop taught the basics of voguing and dancing to express yourself.
Kristi Yeung
November 18, 2019
Photo: Pablo Meninato
United States of Urgency: Migrant Bodies on the Move
Cardell Dance Theater successfully illustrates immigrant journeys, simultaneously humanizing migrant bodies.
L. Graciella Maiolatesi
November 18, 2019
Photo: Alexander Iziliaev
Contemporary in-the-Works at PA Ballet's World Premieres
Pennsylvania Ballet's World Premieres showcases three new atmospheric works.
Colin Murray
November 20, 2019
Photo: Mira Treatman
Would You Perform With A Total Stranger?
I feel very validated by the concept that 'to curate' literally originates from the Latin root 'to care.'
Maddie Hopfield
November 20, 2019
Dance, Reanimated on the Page
Annie-B Parson's recent book weaves the detritus of past performances into a newly generative artifact.
Emma Cohen
November 23, 2019
Photo: James Claiborne
Dixon Gottschild's Aunt Jemima, Out of Place
Performative lecture calls for black liberation.
Barbora Příhodová
November 25, 2019
Photo: Thomas Bouchard
Miss Hill: Creating the Dancers of the 21st Century
Miss Martha Hill, a little-known powerhouse behind the scenes of modern dance, makes dance matter in Greg Vander Veer's film.
Kristen Shahverdian
November 25, 2019
Photo: Shanel Edwards
Locating Black Liberation Through Time and Space
These artists investigate how Black individuals center justice in their work, and by doing so, commit to locating and living in liberation.
L. Graciella Maiolatesi
December 5, 2019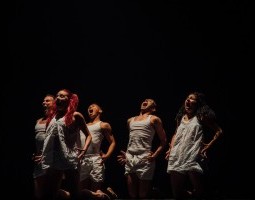 Photo: Stephanie Ramones
Sculptural Lines Straight Out of Chi Town
Amid syncopated contemporary dance, Haun's Chicago-based company offers a welcome respite of non-narrative, sculptural lines.
Kat J. Sullivan
December 6, 2019
Photo: Stephanie Berger
Mark Morris' Life in Dance Lived "Out Loud"
"Because I'm me…": Morris is very much himself in his new wide-ranging memoir.
Christina Catanese
December 9, 2019
Photo: Ani Gavino
Performing Activism at the Barnes Foundation
Works like Fleming's inspire me to use art as a tool for protest.
Annielille (Ani) Gavino
December 9, 2019