Photo: Alexander Iziliaev
Fading Dreams in PA Ballet's Cinderella
Once upon a time the ballet was an enchanting place. Has the magic of the proscenium waned?
Whitney Weinstein
November 8, 2016
Photo: Paula Court
Erotic Divine, Born of Structural Space
Undersweet dedicates rigorous attention to the unfolding of now, trimmed of nostalgic fat.
Jenna Horton
November 9, 2016
Photo: Carlos Avendaño
SaltSoul: Interrogating Loss and Large Scale Tragedies
The duet by Kim and Ramirez is stunning, full of longing, gentleness and mild eroticism.
Zornitsa Stoyanova
November 15, 2016
Photo: Alexander Iziliaev
What is Revolutionary about PA Ballet's Revolution?
Perhaps it's revolutionary to have a local non-ballet choreographer set a work on PAB.
Kalila Kingsford Smith
November 19, 2016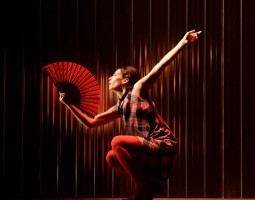 Photo: Myriam Levent Erutku
Eyes on Guys at CINARS
Beyond the booths, and between official CINARS showcases and Off-CINARS performances, there were more shows than anyone could attend.
Megan Bridge
November 25, 2016
Photo: Alexander Iziliaev
How is a Ballet Like a Plane Explosion?
In transition, we experience, momentarily, what we leave behind and where we are going.
Jenna Horton
November 26, 2016
Photo: Andrew Sargus Klein
Sharing and holding this space with you
Immersive dance intersects with election night trauma.
Andrew Sargus Klein
November 29, 2016
Photo: Raof Haj-yihia
Empowered Responses to Occupation from Palestinian Contemporary Dance
Social, political and creatively occupied space.
Jonathan Stein
November 29, 2016
Photo: Ilan Bachrach
Jean & Terry: Venturing Out of the Ordinary
A multi-layered trip into the idea of Universal Consciousness.
Janna Meiring
December 1, 2016
Photo: Meredith Hanafi
Embodying Diasporic History
A vibrantly woven tapestry of sound and movement.
Lynn Matluck Brooks
December 3, 2016
Photo: Jen Cleary
Grief, Ritual, and Active Rejection
The bastard: an urge to fall down, a depressive thought that won't flush away, the bobbing reminder of personal failure.
Julius Ferraro
December 5, 2016
Photo:Maria Shaplin
Circumstances for Delight and Discovery
"You want the world to be both chaotic and predictable."
Ellen Chenoweth
December 7, 2016