Photo: Tasha Doremus
The Container and the Contained
The opening salvo of a series of performances accompanying the installation—each of them at night, with a rotating cast presenting the same six-point material.
Anna Drozdowski
May 24, 2016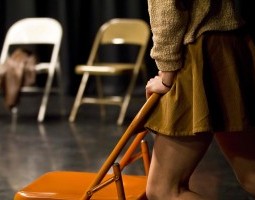 Photo: Andrew Bossi
Dropping Into Everything
Each moment shifts to the next; Bindler and Tini let action unfold through accident and serendipity.
Megan Stern
June 1, 2016
Photo: Toni Shapiro-Phim
tD Interviews Germaine Ingram on Her Yoruba Diaspora Project
Bringing awareness to the impact of Yoruba, Bantu and Fon traditions on Philadelphia's cultural landscape.
Jonathan Stein
June 6, 2016
Photo: Phillymag.com
Queer Artists of Color: Why Their Works Matter
These performers bring to light experiences of queer people of color, so often overlooked and undernarrated.
Gregory King
June 9, 2016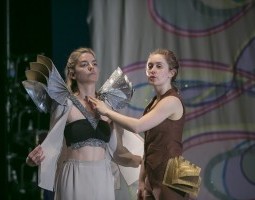 Photo: Kevin Monko
I love her: Chelsea & Magda
For every action there is an opposite but equal reaction. For every shame, there is a pleasure.
Lauren Samblanet
June 12, 2016
Photo: Jess Weitz
Making Matters - Uncovering Process at the Vermont Performance Lab
I thought to myself, this will never happen again.
Meredith Bove
June 13, 2016
Plate 3 Photography
The Pleasing, Profound, and Peculiarity of 4pm
A Brewerytown afternoon unfolds with Subcircle's most recent missive.
Kat Sullivan
June 14, 2016
Life Lines: Ally at the Fabric Workshop and Museum
There is the biography... And there is the universal—the multitudes of a single life, the luck of longevity.
Carolyn Merritt
June 15, 2016
Photo: Frank Bicking
Real Live People from Near and Far
Issues of identity, race and communication with each other resonated, leaving me with a new hope for dance and its connection to the outside world.
Zornitsa Stoyanova
June 16, 2016
Photo: Michael Bartmann
Dance as Medium: a turning of the bones
Bellows Falls allows story to arise from the concrete poetics of space.
Scott Rodrigue
June 17, 2016
Photo: Alexander Iziliaev
Slain by Beauty
The context of Balanchine and Beyond makes Trisha Brown's work gleam. A nod to the events of the day would have made the ballet as an institution gleam as well.
Megan Bridge
June 19, 2016
Photo: Hellmut Gottschild
Arrows at Racism in Dance and Beyond: Brenda Dixon Gottschild
On dance, her impact, and racism, "the most glaring, tragic, intransigent issue in every sector of the American landscape."
Lynn Matluck Brooks
June 25, 2016