Photo: Sari Hammouri
Free Advice and an Interview with Farah Saleh
Curating empowerment of Palestinian artists; reclaiming Feldenkrais; and transforming Free Advice street sessions into movement.
Nicole Bindler
April 27, 2016
Photo: Dudu Quintanilha
Emblembody
Vecino lives the thousands of tiny existences of each gesture.
Kat Sullivan
April 27, 2016
Photo: Alexander Iziliaev
BalletX: A Ten-Year Retrospective of Technique and Theatrics
BalletX's ten-year celebration was a thank-you note to Philadelphia.
Gregory King
May 2, 2016
Photo: JH Kertis
They Play, They Dance, They Improv!
Mascher Space's H-O-T Series—a reminder that responsive, lively, daring dance and music can coexist.
Lynn Matluck Brooks
May 4, 2016
Photo: Aidan Un
Opaque to Transparent: Revealing the Process in Works by Wilson, Linyekula, and Jones
Finding the right balance in sharing behind-the-scenes work and thinking.
Lisa Kraus
May 7, 2016
Photo: Will Drinker
The Madonna Resilient
She is naked again, having carried, cast off, born and been reborn.
Kat Sullivan
May 13, 2016
Photo: Brian Hunt
The Ballad of Trayvon Martin: Diary of a Black Man
On stage they were admired, but on the streets their attire would make them the targets of discrimination.
Gregory King
May 15, 2016
Photo: Tasha Doremus
Action is Primary is Not a Ballet
Action is Primary is not a ballet. Action is Primary is a score. Action is Primary is a dance about what dance is.
Jenna Horton
May 19, 2016
Janine Antoni in collaboration with Anna Halprin, Paper Dance, 2
Taking Off from Anna Halprin's Dance Deck: Ally at the Fabric Workshop and Museum
Halprin's most recent dance deck-mates have included Janine Antoni and Stephen Petronio
Jonathan Stein
May 22, 2016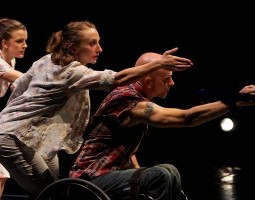 Photo: Dino Corti
Virtuosity, Expression, and Story: Axis Dance Company's National Tour
We see bodies moving with vigor and determination and lounging with cool confidence.
Megan Stern
May 23, 2016
Photo: George Maracineanu
They, Themself, and Schmerm at Abrons Art Center
Alice Pencavel reviews Becca Blackwell's solo show at Culturebot.
Guest Writer
May 23, 2016
Photo: Tasha Doremus
The Container and the Contained
The opening salvo of a series of performances accompanying the installation—each of them at night, with a rotating cast presenting the same six-point material.
Anna Drozdowski
May 24, 2016